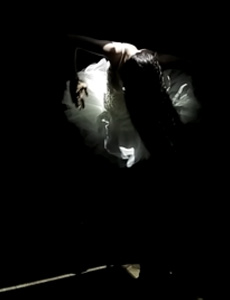 Conception: Etienne Bernardot
Choreography and performance:: Ilia Gilbertas
Visual creation, sound, scenography: Etienne Bernardot

Creation September 2015
Diffusion: Festival LUX, Besançon, oct 2015. Festival Vision'R, Montreuil, june 2016. Les Fééries Nocturnes, Crévoux, july 2016


[EcHo] is a live digital installation and playful.

The spectators are invited to play with their own image, to choose the trace that they want to leave in the machine.

In our contemporary societies, where the image is omnipresent due to the multiplicity of dissemination and capture media, EcHo raises the question of the control we have on our image.

Each person passing in front of the module of mirrors will see his image materialize on large screen, inviting him to manipulate it as it wishes. The more it plays with the module, with its image, the more the machine offers it "material". Images of other spectators who have already passed and whose "trail" travels with installation throughout the world, like a social network parallel and palpable.

Images of "La Danseuse" allegory both of the ego of each, of the digital memory, and of the collective unconscious.
Festival Vision'R, le Jardin d'Alice, Montreuil, june 2016
Report on the festival:
Movie maker: Claire Boubé
Artists: Alexandre Urbrain, Joan Giner, Olivier Ratsi, Edouard Suffrin and Clémentine Poquet


Festival Lux, Besançon, October 2015
In the context of Vision'R Light Lab Force